FREE UK DELIVERY ON ALL ETERNA SHIRTS
Stephen Allen's Lowest Price Guarantee
We beat any lower price by 10%
If you see a competitor supplying the same item for less note the web site in the comments section at check out,
Call 0800 0096534 or email.
We will not just match that price but we will beat it by 10% by refunding to your card or PayPal account*


ORIGINAL COMFORT FIT - THE ORIGINAL CLASSIC FIT
Click image to view image enlargement (opens in a new window.)
Enter promotion code ETERNA at checkout then 'Apply code' for FREE U.K. DELIVERY
To order, please select shirt number and size from order panel below the images
or call 01384 377534 - Freephone 0800 0096534 Monday to Saturday 09:30 - 17:00
100% finest Swiss cotton | Non-iron and crease resisting | Classic kent collar | Duo cuff that can be worn with cufflinks or buttoned | Chest pocket

Item: 1100-E198 Eterna
Original Comfort Fit
Shades: 00 White, 10 Light Blue, 39 Black
Sizes: 15 1/2" to 19 1/2"

£55.00 Special Offer Now £44.95 or any 2 for £87.94 or any 3 for £129.96

Multi Buy Discount applies to all plain shirts.
To order, 1, 2 or 3 please select shirt(s) and size from one or more plain shirt order grid(s) to apply a discount across the range.

Enter promotion code ETERNA at checkout then 'Apply code' for FREE U.K. DELIVERY

Never undersold price guarantee. We will beat any lower price by 10%
If you see a lower price note the web site in comments section at checkout, call 0800 0096534 or email

To order click item(s) from order panel
or call 01384 377534 - Freephone 0800 0096534 Monday to Saturday 09:30 - 17:00
---
100% finest Swiss cotton | Non-iron and crease resisting | Semi spread collar | Duo cuff that can be worn with cufflinks or buttoned | Chest pocket

Item: 1100-E187 Eterna
Original Comfort Fit
Shades: 00 White, 10 Light Blue, 39 Black
Sizes: 15 1/2" to 19 1/2"

£55.00 Special Offer Now £44.95 or any 2 for £87.94 or any 3 for £129.96

Enter promotion code ETERNA at checkout then 'Apply code' for FREE U.K. DELIVERY

Multi Buy Discount applies to all plain shirts.
To order, 1, 2 or 3 please select shirt(s) and size from one or more plain shirt order grid(s) to apply a discount across the range.

Never undersold price guarantee. We will beat any lower price by 10%
If you see a lower price note the web site in comments section at checkout, call 0800 0096534 or email

To order click item(s) from order panel
or call 01384 377534 - Freephone 0800 0096534 Monday to Saturday 09:30 - 17:00
---
100% finest Swiss cotton | Non-iron and crease resisting | Classic kent collar | Duo cuff that can be worn with cufflinks or buttoned | Chest pocket |
Extra long sleeves giving an extra 1" |

Item: 1100-E198-L68 Eterna
Original Comfort Fit
Shades: 00 White, 10 Light Blue
Sizes: 15 1/2" to 19"

£55.00 Special Offer Now £44.95 or any 2 for £87.94 or any 3 for £129.96

Enter promotion code ETERNA at checkout then 'Apply code' for FREE U.K. DELIVERY

Multi Buy Discount applies to all plain shirts.
To order, 1, 2 or 3 please select shirt(s) and size from one or more plain shirt order grid(s) to apply a discount across the range.

Never undersold price guarantee. We will beat any lower price by 10%
If you see a lower price note the web site in comments section at checkout, call 0800 0096534 or email

To order click item(s) from order panel
or call 01384 377534 - Freephone 0800 0096534 Monday to Saturday 09:30 - 17:00
---
100% finest Swiss cotton | Non-iron and crease resisting | Oxford weave | Button down collar | Duo cuff that can be worn with cufflinks or buttoned | Chest pocket

Item: 8100-E194 Eterna
Original Comfort Fit
Shades: 00 White, 12 Mid Blue
Sizes: 15 3/4" to 19 1/2"

£55.00 Special Offer Now £44.95 or any 2 for £87.94 or any 3 for £129.96

Enter promotion code ETERNA at checkout then 'Apply code' for FREE U.K. DELIVERY

Multi Buy Discount applies to all plain shirts.
To order, 1, 2 or 3 please select shirt(s) and size from one or more plain shirt order grid(s) to apply a discount across the range.

Never undersold price guarantee. We will beat any lower price by 10%
If you see a lower price note the web site in comments section at checkout, call 0800 0096534 or email

To order click item(s) from order panel
or call 01384 377534 - Freephone 0800 0096534 Monday to Saturday 09:30 - 17:00
---
100% finest Swiss cotton | Non-iron and crease resisting | Classic kent collar | Double cuff | Without chest pocket

Item: 8500-E498 Double Cuff Eterna
Original Comfort Fit
Shade: 00 White
Sizes: 15 3/4" to 19 1/2"

£55.00 Special Offer Now £44.95 or any 2 for £87.94 or any 3 for £129.96

Enter promotion code ETERNA at checkout then 'Apply code' for FREE U.K. DELIVERY

Multi Buy Discount applies to all plain shirts.
To order, 1, 2 or 3 please select shirt(s) and size from one or more plain shirt order grid(s) to apply a discount across the range.

Never undersold price guarantee. We will beat any lower price by 10%
If you see a lower price note the web site in comments section at checkout, call 0800 0096534 or email

To order click item(s) from order panel
or call 01384 377534 - Freephone 0800 0096534 Monday to Saturday 09:30 - 17:00
---


HALF SLEEVE PLAIN SHIRTS
Click image to view image enlargement (opens in a new window.)
Enter promotion code ETERNA at checkout then 'Apply code' for FREE U.K. DELIVERY
To order, please select shirt number and size from order panel below the images
or call 01384 377534 - Freephone 0800 0096534 Monday to Saturday 09:30 - 17:00
100% finest Swiss cotton | Non-iron and crease resisting | Classic kent collar | Half Sleeve | Chest pocket

Item: 1100-K198 Eterna Half Sleeve
Original Comfort Fit
Shade: 00 White, 10 Light Blue, 39 Black
Sizes: 15 1/2" to 19 1/2"

£55.00 Special Offer Now £44.95 or any 2 for £87.94 or any 3 for £129.96

Enter promotion code ETERNA at checkout then 'Apply code' for FREE U.K. DELIVERY

Multi Buy Discount applies to all plain shirts.
To order, 1, 2 or 3 please select shirt(s) and size from one or more plain shirt order grid(s) to apply a discount across the range.

Never undersold price guarantee. We will beat any lower price by 10%
If you see a lower price note the web site in comments section at checkout, call 0800 0096534 or email

To order click item(s) from order panel
or call 01384 377534 - Freephone 0800 0096534 Monday to Saturday 09:30 - 17:00
| Back to Top |
---
---


PLAIN SHIRTS WITH TRIM DETAIL
ORIGINAL COMFORT FIT - THE ORIGINAL CLASSIC FIT
Click image to view image enlargement (opens in a new window.)
Enter promotion code ETERNA at checkout then 'Apply code' for FREE U.K. DELIVERY
To order, please select shirt number and size from order panel below the images
or call 01384 377534 - Freephone 0800 0096534 Monday to Saturday 09:30 - 17:00
100% finest Swiss cotton | Non-iron and crease resisting | Classic collar | Duo cuff that can be worn with cufflinks or buttoned | Chest pocket

Item: 1300 E83K Eterna
Original Comfort Fit
Shades: 00 White, 19 Navy
Sizes: 15 3/4" to 19"

£59.95 Special Offer NOW £49.90 or any 2 for £96.90 or any 3 for £134.79

Multi Buy Discount applies to all plain shirts with trim detail. To order, 1, 2 or 3 of the same shirt please select shirt(s) and size from this section. To order 3 different shirts, please order these singly from each section to apply a discount across the range.

Enter promotion code ETERNA at checkout then 'Apply code' for FREE U.K. DELIVERY

Never undersold price guarantee. We will beat any lower price by 10%
If you see a lower price note the web site in comments section at checkout, call 0800 0096534 or email

To order click item(s) from order panel
or call 01384 377534 - Freephone 0800 0096534 Monday to Saturday 09:30 - 17:00
---
100% finest Swiss cotton | Non-iron and crease resisting | Classic collar | Duo cuff that can be worn with cufflinks or buttoned | Chest pocket

Item: 8500 E148 Eterna
Original Comfort Fit
Shade: 32 Grey
Sizes: 15 3/4" to 19"

£59.95 Special Offer NOW £49.90 or any 2 for £96.90 or any 3 for £134.79

Multi Buy Discount applies to all plain shirts with trim detail. To order, 1, 2 or 3 of the same shirt please select shirt(s) and size from this section. To order 3 different shirts, please order these singly from each section to apply a discount across the range.

Enter promotion code ETERNA at checkout then 'Apply code' for FREE U.K. DELIVERY

Never undersold price guarantee. We will beat any lower price by 10%
If you see a lower price note the web site in comments section at checkout, call 0800 0096534 or email

To order click item(s) from order panel
or call 01384 377534 - Freephone 0800 0096534 Monday to Saturday 09:30 - 17:00
---
100% finest Swiss cotton | Non-iron and crease resisting | Classic collar | Duo cuff that can be worn with cufflinks or buttoned | Chest pocket

Item: 8100 E137 Eterna
Original Comfort Fit
Shades: 00 White, 12 Mid Blue
Sizes: 15 3/4" to 19"

£59.95 Special Offer NOW £49.90 or any 2 for £96.90 or any 3 for £134.79

Multi Buy Discount applies to all plain shirts with trim detail. To order, 1, 2 or 3 of the same shirt please select shirt(s) and size from this section. To order 3 different shirts, please order these singly from each section to apply a discount across the range.

Enter promotion code ETERNA at checkout then 'Apply code' for FREE U.K. DELIVERY

Never undersold price guarantee. We will beat any lower price by 10%
If you see a lower price note the web site in comments section at checkout, call 0800 0096534 or email

To order click item(s) from order panel
or call 01384 377534 - Freephone 0800 0096534 Monday to Saturday 09:30 - 17:00
| Back to Top |
---


PATTERNED SHIRTS
ORIGINAL COMFORT FIT - THE ORIGINAL CLASSIC FIT
Click image to view image enlargement (opens in a new window.)
Enter promotion code ETERNA at checkout then 'Apply code' for FREE U.K. DELIVERY
To order, please select shirt number and size from order panel below the images
or call 01384 377534 - Freephone 0800 0096534 Monday to Saturday 09:30 - 17:00
100% finest Swiss cotton | Non-iron and crease resisting | Classic collar | Duo cuff that can be worn with cufflinks or buttoned | Chest pocket
Neat check with inner collar, placket and cuff trim detail

Item: 3720 E18E Eterna
Original Comfort Fit
Shades: 12 Light Blue, 17 Dark Blue
Sizes: 15 3/4" to 19"

£59.95 Special Offer NOW £49.90 or any 2 for £96.90 or any 3 for £134.79

Multi Buy Discount applies to all patterned shirts. To order, 1, 2 or 3 of the same shirt please select shirt(s) and size from this section. To order 3 different shirts, please order these singly from each section to apply a discount across the range.

Enter promotion code ETERNA at checkout then 'Apply code' for FREE U.K. DELIVERY

Never undersold price guarantee. We will beat any lower price by 10%
If you see a lower price note the web site in comments section at checkout, call 0800 0096534 or email

To order click item(s) from order panel
or call 01384 377534 - Freephone 0800 0096534 Monday to Saturday 09:30 - 17:00
---
100% finest Swiss cotton | Non-iron and crease resisting | Button down collar | Duo cuff that can be worn with cufflinks or buttoned | Chest pocket
Gingham check with inner collar and cuff trim detail

Item: 8913 E144 Eterna
Original Comfort Fit
Shades: 12 Light Blue, 16 Dark Blue, 58 Burgundy
Sizes: 15 3/4" to 19"

£59.95 Special Offer NOW £49.90 or any 2 for £96.90 or any 3 for £134.79

Multi Buy Discount applies to all plain shirts with trim detail. To order, 1, 2 or 3 of the same shirt please select shirt(s) and size from this section. To order 3 different shirts, please order these singly from each section to apply a discount across the range.

Enter promotion code ETERNA at checkout then 'Apply code' for FREE U.K. DELIVERY

Never undersold price guarantee. We will beat any lower price by 10%
If you see a lower price note the web site in comments section at checkout, call 0800 0096534 or email

To order click item(s) from order panel
or call 01384 377534 - Freephone 0800 0096534 Monday to Saturday 09:30 - 17:00
---
100% finest Swiss cotton | Non-iron and crease resisting | Classic collar | Duo cuff that can be worn with cufflinks or buttoned | Chest pocket
Neat micro check with inner collar, placket and cuff trim detail

Item: 3116 E95K Eterna
Original Comfort Fit
Shade: 12 Light Blue, 50 Pink
Sizes: 15 3/4" to 19"

£59.95 Special Offer NOW £49.90 or any 2 for £96.90 or any 3 for £134.79

Multi Buy Discount applies to all patterned shirts. To order, 1, 2 or 3 of the same shirt please select shirt(s) and size from this section. To order 3 different shirts, please order these singly from each section to apply a discount across the range.

Enter promotion code ETERNA at checkout then 'Apply code' for FREE U.K. DELIVERY

Never undersold price guarantee. We will beat any lower price by 10%
If you see a lower price note the web site in comments section at checkout, call 0800 0096534 or email

To order click item(s) from order panel
or call 01384 377534 - Freephone 0800 0096534 Monday to Saturday 09:30 - 17:00
---
100% finest Swiss cotton | Non-iron and crease resisting | Semi spread collar | Duo cuff that can be worn with cufflinks or buttoned | Chest pocket
Self pattern neat pattern

Item: 3116 E187 Eterna
Original Comfort Fit
Shade: 38 Anthracite
Sizes: 15 3/4" to 19"

£59.95 Special Offer NOW £49.90 or any 2 for £96.90 or any 3 for £134.79

Multi Buy Discount applies to all patterned shirts. To order, 1, 2 or 3 of the same shirt please select shirt(s) and size from this section. To order 3 different shirts, please order these singly from each section to apply a discount across the range.

Enter promotion code ETERNA at checkout then 'Apply code' for FREE U.K. DELIVERY

Never undersold price guarantee. We will beat any lower price by 10%
If you see a lower price note the web site in comments section at checkout, call 0800 0096534 or email

To order click item(s) from order panel
or call 01384 377534 - Freephone 0800 0096534 Monday to Saturday 09:30 - 17:00
---
100% finest Swiss cotton | Non-iron and crease resisting | Classic collar | Duo cuff that can be worn with cufflinks or buttoned | Chest pocket
Classic stripe with inner collar and cuff trim

Item: 8982 E15K
Original Comfort Fit
Shade: 19 Blue
Sizes: 15 3/4" to 19"

£59.95 Special Offer NOW £49.90 or any 2 for £96.90 or any 3 for £134.79

Multi Buy Discount applies to all patterned shirts. To order, 1, 2 or 3 of the same shirt please select shirt(s) and size from this section. To order 3 different shirts, please order these singly from each section to apply a discount across the range.

Enter promotion code ETERNA at checkout then 'Apply code' for FREE U.K. DELIVERY

Never undersold price guarantee. We will beat any lower price by 10%
If you see a lower price note the web site in comments section at checkout, call 0800 0096534 or email

To order click item(s) from order panel
or call 01384 377534 - Freephone 0800 0096534 Monday to Saturday 09:30 - 17:00
---
100% finest Swiss cotton | Non-iron and crease resisting | semi spread collar | Duo cuff that can be worn with cufflinks or buttoned | Chest pocket
Classic stripe with inner collar and cuff trim

Item: 8992 E15P
Original Comfort Fit
Shade: 16 Blue
Sizes: 15 3/4" to 19"

£59.95 Special Offer NOW £49.90 or any 2 for £96.90 or any 3 for £134.79

Multi Buy Discount applies to all patterned shirts. To order, 1, 2 or 3 of the same shirt please select shirt(s) and size from this section. To order 3 different shirts, please order these singly from each section to apply a discount across the range.

Enter promotion code ETERNA at checkout then 'Apply code' for FREE U.K. DELIVERY

Never undersold price guarantee. We will beat any lower price by 10%
If you see a lower price note the web site in comments section at checkout, call 0800 0096534 or email

To order click item(s) from order panel
or call 01384 377534 - Freephone 0800 0096534 Monday to Saturday 09:30 - 17:00
---
100% finest Swiss cotton | Non-iron and crease resisting | Classic collar | Duo cuff that can be worn with cufflinks or buttoned | Chest pocket
Micro check with inner collar, placket and cuff trim

Item: 4671 E147
Original Comfort Fit
Shade: 11 Light Blue
Sizes: 15 3/4" to 19"

£59.95 Special Offer NOW £49.90 or any 2 for £96.90 or any 3 for £134.79

Multi Buy Discount applies to all patterned shirts. To order, 1, 2 or 3 of the same shirt please select shirt(s) and size from this section. To order 3 different shirts, please order these singly from each section to apply a discount across the range.

Enter promotion code ETERNA at checkout then 'Apply code' for FREE U.K. DELIVERY

Never undersold price guarantee. We will beat any lower price by 10%
If you see a lower price note the web site in comments section at checkout, call 0800 0096534 or email

To order click item(s) from order panel
or call 01384 377534 - Freephone 0800 0096534 Monday to Saturday 09:30 - 17:00
100% finest Swiss cotton | Non-iron and crease resisting | Classic collar | Duo cuff that can be worn with cufflinks or buttoned | Chest pocket
Micro check with inner collar, placket and cuff trim

Item: 3178 E15K
Original Comfort Fit
Shade: 12 Light Blue
Sizes: 15 3/4" to 19"

£59.95 Special Offer NOW £49.90 or any 2 for £96.90 or any 3 for £134.79

Multi Buy Discount applies to all patterned shirts. To order, 1, 2 or 3 of the same shirt please select shirt(s) and size from this section. To order 3 different shirts, please order these singly from each section to apply a discount across the range.

Enter promotion code ETERNA at checkout then 'Apply code' for FREE U.K. DELIVERY

Never undersold price guarantee. We will beat any lower price by 10%
If you see a lower price note the web site in comments section at checkout, call 0800 0096534 or email

To order click item(s) from order panel
or call 01384 377534 - Freephone 0800 0096534 Monday to Saturday 09:30 - 17:00
---
100% finest Swiss cotton | Non-iron and crease resisting | Classic collar | Duo cuff that can be worn with cufflinks or buttoned | Without pocket
Blue/Red paisley print.

Item: 3915 E17K
Original Comfort Fit
Shade: 18 Blue/Red Paisley
Sizes: 15 3/4" to 19"

£59.95 Special Offer NOW £49.90 or any 2 for £96.90 or any 3 for £134.79

Multi Buy Discount applies to all patterned shirts. To order, 1, 2 or 3 of the same shirt please select shirt(s) and size from this section. To order 3 different shirts, please order these singly from each section to apply a discount across the range.

Enter promotion code ETERNA at checkout then 'Apply code' for FREE U.K. DELIVERY

Never undersold price guarantee. We will beat any lower price by 10%
If you see a lower price note the web site in comments section at checkout, call 0800 0096534 or email

To order click item(s) from order panel
or call 01384 377534 - Freephone 0800 0096534 Monday to Saturday 09:30 - 17:00
---
100% finest Swiss cotton | Non-iron and crease resisting | Classic collar | Duo cuff that can be worn with cufflinks or buttoned | Without pocket
Burgundy self textured.

Item: 3680 E17V
Original Comfort Fit
Shade: 56 Burgundy
Sizes: 15 3/4" to 19"

£59.95 Special Offer NOW £49.90 or any 2 for £96.90 or any 3 for £134.79

Multi Buy Discount applies to all patterned shirts. To order, 1, 2 or 3 of the same shirt please select shirt(s) and size from this section. To order 3 different shirts, please order these singly from each section to apply a discount across the range.

Enter promotion code ETERNA at checkout then 'Apply code' for FREE U.K. DELIVERY

Never undersold price guarantee. We will beat any lower price by 10%
If you see a lower price note the web site in comments section at checkout, call 0800 0096534 or email

To order click item(s) from order panel
or call 01384 377534 - Freephone 0800 0096534 Monday to Saturday 09:30 - 17:00
---
100% finest Swiss cotton | Non-iron and crease resisting | Classic collar | Duo cuff that can be worn with cufflinks or buttoned | Chest pocket
Fine self textured with inner collar, placket and cuff trim

Item: 3370 E15K
Original Comfort Fit
Shades: 00 White, 12 Light Blue, 18 Navy
Sizes: 15 3/4" to 19"

£59.95 Special Offer NOW £49.90 or any 2 for £96.90 or any 3 for £134.79

Multi Buy Discount applies to all patterned shirts. To order, 1, 2 or 3 of the same shirt please select shirt(s) and size from this section. To order 3 different shirts, please order these singly from each section to apply a discount across the range.

Enter promotion code ETERNA at checkout then 'Apply code' for FREE U.K. DELIVERY

Never undersold price guarantee. We will beat any lower price by 10%
If you see a lower price note the web site in comments section at checkout, call 0800 0096534 or email

To order click item(s) from order panel
or call 01384 377534 - Freephone 0800 0096534 Monday to Saturday 09:30 - 17:00
---
100% finest Swiss cotton | Non-iron and crease resisting | Classic collar | Duo cuff that can be worn with cufflinks or buttoned | With pocket
Navy pinpoint print.

Item: 3871 E19K
Original Comfort Fit
Shade: 19 Navy pinpoint print
Sizes: 15 3/4" to 19"

£59.95 Special Offer NOW £49.90 or any 2 for £96.90 or any 3 for £134.79

Multi Buy Discount applies to all patterned shirts. To order, 1, 2 or 3 of the same shirt please select shirt(s) and size from this section. To order 3 different shirts, please order these singly from each section to apply a discount across the range.

Enter promotion code ETERNA at checkout then 'Apply code' for FREE U.K. DELIVERY

Never undersold price guarantee. We will beat any lower price by 10%
If you see a lower price note the web site in comments section at checkout, call 0800 0096534 or email

To order click item(s) from order panel
or call 01384 377534 - Freephone 0800 0096534 Monday to Saturday 09:30 - 17:00
---
100% finest Swiss cotton | Non-iron and crease resisting | Classic collar | Duo cuff that can be worn with cufflinks or buttoned | Chest pocket
Fine honeycomb with inner collar, placket and cuff trim detail

Item: 8463 E14V Eterna
Original Comfort Fit
Shades: 00 White, 16 Blue
Sizes: 15 3/4" to 19"

£59.95 Special Offer NOW £49.90 or any 2 for £96.90 or any 3 for £134.79

Multi Buy Discount applies to all patterned shirts. To order, 1, 2 or 3 of the same shirt please select shirt(s) and size from this section. To order 3 different shirts, please order these singly from each section to apply a discount across the range.

Enter promotion code ETERNA at checkout then 'Apply code' for FREE U.K. DELIVERY

Never undersold price guarantee. We will beat any lower price by 10%
If you see a lower price note the web site in comments section at checkout, call 0800 0096534 or email

To order click item(s) from order panel
or call 01384 377534 - Freephone 0800 0096534 Monday to Saturday 09:30 - 17:00
---
| Back to Top |
FREE UK DELIVERY ON ALL ETERNA SHIRTS


ETERNA MODERN TAILORED FIT PLAIN SHIRTS
Click image to view image enlargement (opens in a new window.)
Enter promotion code ETERNA at checkout then 'Apply code' for FREE U.K. DELIVERY
To order, please select shirt number and size from order panel below the images
or call 01384 377534 - Freephone 0800 0096534 Monday to Saturday 09:30 - 17:00
PLAIN SHIRTS
100% finest Swiss cotton | Non-iron and crease resisting | Classic collar | Duo cuff that can
be worn with cufflinks or buttoned | Without pocket

Item: 1100 X177 Eterna
Modern Tailored Fit
Shades: 00 White, 10 Light Blue, 39 Black
Sizes: 15 1/2" to 18"

£59.95 Special Offer NOW £49.90 or any 2 for £96.90 or any 3 for £134.79

Multi Buy Discount applies to all plain shirts.
To order, 1, 2 or 3 please select shirt(s) and size from one or more plain shirt order
grid(s) to apply a discount across the range.

Enter promotion code ETERNA at checkout then 'Apply code' for FREE U.K. DELIVERY

Eterna lowest price guarantee because we will beat any lower price by 10%
If you see a lower price note the web site in comments section at checkout, call 0800 0096534 or email

To order click item(s) from order panel
or call 01384 377534 - Freephone 0800 0096534 Monday to Saturday 09:30 - 17:00
---
100% finest Swiss cotton | Non-iron and crease resisting | Classic collar | Duo cuff that can be worn with cufflinks or buttoned | Chest pocket

Item: 1100 X187
Modern Tailored Fit
Shades: 00 White, 10 Light Blue, 39 Black
Sizes: 15 1/2" to 18"

£59.95 Special Offer NOW £49.90 or any 2 for £96.90 or any 3 for £134.79

Multi Buy Discount applies to all plain shirts.
To order, 1, 2 or 3 please select shirt(s) and size from one or more plain shirt order
grid(s) to apply a discount across the range.

Enter promotion code ETERNA at checkout then 'Apply code' for FREE U.K. DELIVERY

Eterna lowest price guarantee because we will beat any lower price by 10%
If you see a lower price note the web site in comments section at checkout, call 0800 0096534 or email

To order click item(s) from order panel
or call 01384 377534 - Freephone 0800 0096534 Monday to Saturday 09:30 - 17:00
---
100% finest Swiss cotton | Non-iron and crease resisting | Classic collar | Duo cuff that can be worn with cufflinks or buttoned | Without pocket |

Item: 8100 X177
Modern Tailored Fit
Shades: 00 White, 12 Mid Blue
Sizes: 15 1/2" to 18"

£59.95 Special Offer NOW £49.90 or any 2 for £96.90 or any 3 for £134.79

Multi Buy Discount applies to all plain shirts.
To order, 1, 2 or 3 please select shirt(s) and size from one or more plain shirt order
grid(s) to apply a discount across the range.

Enter promotion code ETERNA at checkout then 'Apply code' for FREE U.K. DELIVERY

Eterna lowest price guarantee because we will beat any lower price by 10%
If you see a lower price note the web site in comments section at checkout, call 0800 0096534 or email

To order click item(s) from order panel
or call 01384 377534 - Freephone 0800 0096534 Monday to Saturday 09:30 - 17:00
---
100% finest Swiss cotton | Non-iron and crease resisting | Button down collar | Duo cuff that can be worn with cufflinks or buttoned | Chest pocket |

Item: 8100 X194
Modern Tailored Fit
Shades: 00 White, 12 Mid Blue
Sizes: 15 1/2" to 18"

£59.95 Special Offer NOW £49.90 or any 2 for £96.90 or any 3 for £134.79

Multi Buy Discount applies to all plain shirts.
To order, 1, 2 or 3 please select shirt(s) and size from one or more plain shirt order
grid(s) to apply a discount across the range.

Enter promotion code ETERNA at checkout then 'Apply code' for FREE U.K. DELIVERY

Eterna lowest price guarantee because we will beat any lower price by 10%
If you see a lower price note the web site in comments section at checkout, call 0800 0096534 or email

To order click item(s) from order panel
or call 01384 377534 - Freephone 0800 0096534 Monday to Saturday 09:30 - 17:00
---
| Back to Top |
---


ETERNA MODERN SLIGHTLY TAILORED FIT
Enter promotion code ETERNA at checkout then 'Apply code' for FREE U.K. DELIVERY
To order, please select shirt number and size from order panel below the images
or call 01384 377534 - Freephone 0800 0096534 Monday to Saturday 09:30 - 17:00
HALF SLEEVE PLAIN SHIRTS

Modern Fit. Slightly tailored
Non-Iron & Crease resisting 100% Swiss cotton
Classic collar
Chest pocket
Half sleeve
Free U.K. Delivery & Lowest price guarantee
£55.00 Special Offer Now £44.95 or any 2 for £87.95 or any 3 for £129.95
Click image to view image enlargement (opens in a new window.)
1100 C187 00 White
Semi spread collar
1100 C187 10 Light Blue
Semi collar
1100 C187 39 Black
Classic collar
Never undersold price guarantee. We will beat any lower price by 10%
If you see a lower price call 0800 0096534 or email
£55.00 Special Offer NOW £44.95 or any 2 for £87.95 or any 3 for £129.95
Enter promotion code ETERNA at checkout then 'Apply code' for FREE U.K. DELIVERY
To order click item(s) from order panel
or call 01384 377534 - Freephone 0800 0096534 Monday to Saturday 09:30 - 17:00
| Back to Top |
---


ETERNA MODERN SLIGHTLY TAILORED FIT PATTERNED & PLAIN SHIRTS WITH TRIM DETAIL
Enter promotion code ETERNA at checkout then 'Apply code' for FREE U.K. DELIVERY
To order, please select shirt number and size from order panel below the images
or call 01384 377534 - Freephone 0800 0096534 Monday to Saturday 09:30 - 17:00
PATTERNED & PLAIN SHIRTS WITH TRIM DETAIL

Modern Fit. Slightly tailored
Non-Iron & Crease resisting 100% Swiss cotton
Duo single cuff to button or wear with cufflinks
Free U.K. Delivery & Lowest price guarantee
£59.95 Special Offer Now £49.90 or any 2 for £96.90 or any 3 for £134.80
Click image to view image enlargement (opens in a new window.)
8913 X143 12 Light Blue
Button down collar
Trim to inner collar & cuff
With pocket
8913 X143 16 Navy
Button down collar
Trim to inner collar & cuff
With pocket
8992 X14P 16 Blue
Semi spread collar
Trim to inner collar & cuff
Without pocket
8982 X15P 19 Navy
Semi spread collar
Trim to inner collar & cuff
With pocket
3070 X143 38 Anthracite
Button down collar
Trim to inner collar, cuff & placket
With pocket
8923 X15P 15 Light Blue/Beige
Semi spread collar
Trim to inner collar, cuff & placket
With pocket
4671 X14P 11 Light Blue
Semi spread collar
Trim to inner collar, cuff & placket
Without pocket
Never undersold price guarantee. We will beat any lower price by 10%
If you see a lower price call 0800 0096534 or email
£59.95 Special Offer NOW £49.90 or any 2 for £96.90 or any 3 for £134.80
Enter promotion code ETERNA at checkout then 'Apply code' for FREE U.K. DELIVERY
To order click item(s) from order panel
or call 01384 377534 - Freephone 0800 0096534 Monday to Saturday 09:30 - 17:00
8500 X157 32 Grey
Classic collar
With pocket
8100 X13K 00 White
Classic collar
Without pocket
8100 X13K 12 Mid Blue
Classic collar
Without pocket
8100 X13K 50 Pink
Classic collar
Without pocket
8100 X13K 92 Lilac
Classic collar
Without pocket
Never undersold price guarantee. We will beat any lower price by 10%
If you see a lower price call 0800 0096534 or email
£59.95 Special Offer NOW £49.90 or any 2 for £96.90 or any 3 for £134.80
Enter promotion code ETERNA at checkout then 'Apply code' for FREE U.K. DELIVERY
To order click item(s) from order panel
or call 01384 377534 - Freephone 0800 0096534 Monday to Saturday 09:30 - 17:00
3116 X94P 12 Light Blue
Semi spread collar
Without pocket
3116 X94P 32 Grey
Semi spread collar
Without pocket
3116 X94P 50 Pink
Semi spread collar
Without pocket
Never undersold price guarantee. We will beat any lower price by 10%
If you see a lower price call 0800 0096534 or email
£59.95 Special Offer NOW £49.90 or any 2 for £96.90 or any 3 for £134.80
Enter promotion code ETERNA at checkout then 'Apply code' for FREE U.K. DELIVERY
To order click item(s) from order panel
or call 01384 377534 - Freephone 0800 0096534 Monday to Saturday 09:30 - 17:00
| Back to Top |
---
EVENING SHIRTS

COMFORT FIT - THE ORIGINAL CLASSIC FIT
MODERN FIT - SLIGHTLY TAILORED FIT
Eterna Modern Fit shirts are gently tailored to the waist, slightly less full than the original classic comfort fit range

£59.95 Special Offer Now £49.00 each 2 for £95.00 or any 3 for £132.00

U.K. DELIVERY ON ALL ETERNA SHIRTS

To order, please select shirt number and size from order panel below the images
or call 01384 377534 - Freephone 0800 0096534 Monday to Saturday 09:30 - 17:00

100% finest Swiss cotton.
Duo Cuff that can be worn with cufflinks or buttoned.
The original Eterna classic fit.
Available in Sizes 15 3/4" to 19"
The Eterna Tailored fit.
Sizes 15 1/2" to 18"

Classic fit evening shirt
Semi spread collar
Double cuff
Fly front
Without pocket
Non-iron
Item: 8500-E387 Eterna
Shade: 00 White
Sizes: 15 3/4" to 18" Only
Tailored fit evening shirt
Classic collar
Double cuff
Fly front
Without pocket
Non-iron
Item: 8500-X367 Eterna
Shades: 00 White, 21 Cream
Sizes: 15 1/2" to 19"
Tailored fit evening shirt
Wing collar
Double cuff
Fly front
Without pocket
Non-iron
Item: 8500-X362 Eterna
Shades: 00 White, 21 Cream
Sizes: 15 1/2" to 19"

---

SATIN POLYESTER READY TIED OR SELF TIE POLYESTER OR SILK BOW TIES

To order click item(s) from order panel
or call 01384 377534 - Freephone 0800 0096534 Monday to Saturday 09:30 - 17:00

Satin Polyester Ready Tied Bow Ties:
Item: Ready tied polyester bow
Shades: Black, Wine, Red, Royal Blue
£16.95 Special Offer NOW £14.95

Order a Satin Polyester Ready Tied Bow Tie £14.95

| | | | |
| --- | --- | --- | --- |
| | | | |
| Black | Wine | Red | Royal Blue |

Satin Polyester Self Tie Bow Ties:
Item: Self tie polyester bow
Shades: Black, Wine
£19.95 Special Offer NOW £15.95

Order a Satin Polyester Self Tie Bow Tie £15.95

Silk Self Tie Bow Tie:
Item: Silk self tie bow
Shade: Black
£24.95 Special Offer NOW £21.95

Order a Silk Self Tie Bow Tie £21.95

| | |
| --- | --- |
| | |
| Self tie polyester bow | Silk self tie bow |
| Back to Top |
---
Eterna Size Chart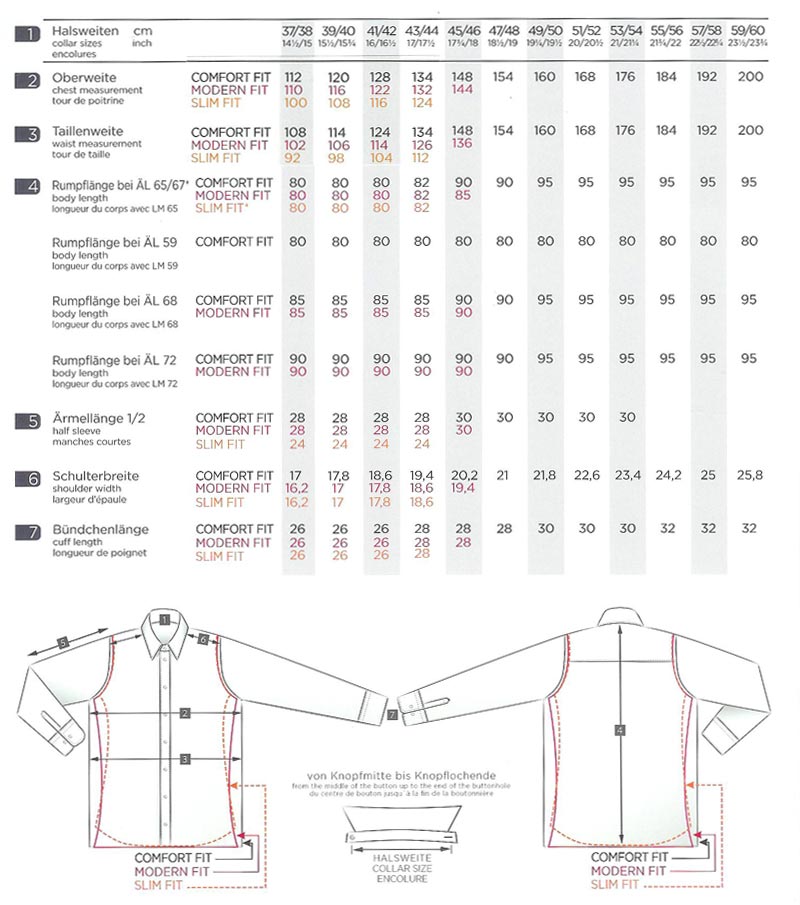 Laundering Eterna Swiss Cotton Non-Iron shirts
For best results spin dry your shirt after washing, briefly tumble dry on a low heat setting then hang immeditely and allow to cool. If you would like to press your shirt use a cool iron but avoid the collar and cuffs which do not require ironing.

Eterna Guarantee
All Eterna shirts are guaranteed against manufacturing faults for two years from date of purchase.
| Back to Top |
---

Stephen Allen | About Us | Formal Shirts | Mens Suits | Dinner Suits | Casual Shirts | Mens Blazers | Mens Suit Jackets | Mens Accessories | Mens Underwear | Mens Socks | Mens Trousers | Mens Chino Trousers | Mens Shoes | Peter England Shirts | Van Heusen Shirts | Farah Menswear | Farah Trousers | Regimental Accessories | Regimental Ties | Masonic Accessories | Masonic Suits | Wedding Suits | Formal Hire | Corporate Clothing | Funeral Wear | Mens Overcoats |